"Killer" is the name of our dinghy – the little boat we carry around with us on Smartini that we use for all local excursions after we arrive in an anchorage. He figures so prominently in our adventures that I decided to give him his own post.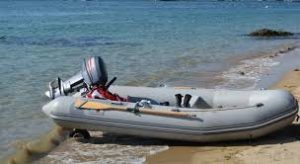 Smartini came with a dinghy – a 10′ long RIB (rigid inflatable boat – a little boat with a fiberglass bottom, and big inflatable tubes forming the sides). At least 9 out of 10 dinghies are RIBs, and if all you're using one for is going between your big boat and shore, I guess they're OK. But we didn't like the one we had, so we sold it to a friend, and bought… another RIB. Doh!!!! <Smack forehead with palm of hand>
This one was a little bigger (11′), had a bigger motor (25 horsepower instead of 10 on the first one), and had seats and a console with a steering wheel. (The first one had what's called "tiller steering" – you steer by holding onto the tiller of the outboard motor with your left hand, which also operates the twist-grip throttle.) And the first time we had four people in it, we realized we had screwed up. There was no room in it, and it wouldn't get up on plane (run up on top of the water, rather than ploughing through it). And it had the most significant disadvantate of an inflatable – eventually, they become a DEFLATABLE. The seams start leaking, or you poke a hole in one of the tubes, or general entropy takes over, and they lose air, so you're constantly having to pump them up again.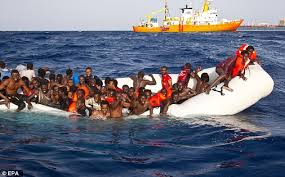 After a few months of not liking that dinghy, we decided no more RIBs for us – we were going to get a real boat as our dinghy. (A real little boat, to be sure, but a real boat.) I started researching them, and came across someone's explanation of their dinghy strategy: "we go long distances slowly in our trawler to get to beautiful places – and when we get there, we want to be able to get around those places quickly." It made perfect sense to Fran and me, so we started looking for little boats that would get four people and some stuff to places quickly. It didn't take long for us to decide on a 13′ Boston Whaler.
All we knew about Boston Whalers was that they're incredibly popular with native Bahamians – we'd seen them in heavy use everywhere we've been in the Bahamas. We also knew that one would fit in the available space with almost a whole inch to spare! What we didn't know is that they have an almost cult-like following. The first Whaler was a 1958 model (same as me!), and it was the 13′ – same as ours. We ended up buying one from a nice guy named Drew, after finding it on Craig's List. (Interesting tidbit – Drew was a Goodyear blimp pilot for the last many years of his working life!)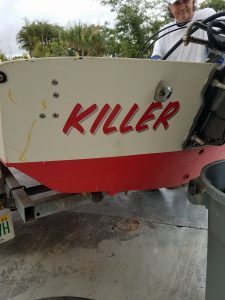 Drew had a good friend who bought the boat new in 1979. He used it extensivly in the Chesapeake Bay area, and then he passed away about four years ago. His widow felt like he would want Drew to have it, so she gave it to him. He used it for a few years, then it sat in his garage for a few years, so he decided to sell it. Drew's nickname for his friend was "Killer", so he put the name "Killer" on the transom of the boat. We liked the story, and liked the name, so we kept it!
Killer just barely fits in the dinghy space on Smartini's upper deck. He's hard to get off the boat with the crane, and even harder to get on. I'm not at all happy with the cradle we had made for him to sit in when he's on the upper deck. If there's even a 6″ chop, there's a good chance you're going to get a little wet at speed. But we LOVE him! He is exactly what we wanted in a dinghy. Four people, up on plane. With just the two of us, he cruises at 16 knots at 3500 rpm – just loafing. Fran and me and full scuba gear, no problem. We can snorkel, scuba, and fish from him. He's fun to drive. What more could we ask for in a dinghy? He even has a cool, retro-looking 35 HP outboard motor! Yes, Killer will be a major player in the Adventures of Smartini!