Once again, Faithful Readers, I find myself apologizing for such a long wait for a new post. I can only imagine how many of you must wake up each morning and think "Today's the day – a new post on Smartini Life – I just KNOW it!". (I imagine that the number is zero.) At any rate, my apologies.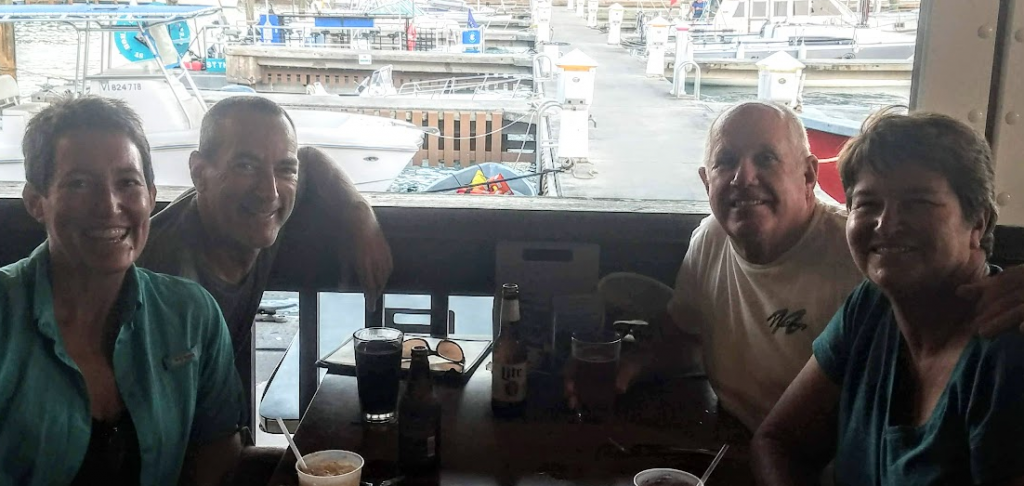 Smartini arrived in Charlotte Amalie, one of the largest settlements on the island of St. Thomas, in the US Virgin Islands, on the afternoon of March 28, just two days ahead of our first guests, Steve and Challen. Friends of ours, Max (Maxine) and Whitey, who we met in Key West after Hurricane Irma, and who run the charter sailboat Nutmeg, were anchored there, so we joined them, anchoring on the West side of Water Island. We promptly put Killer in the water, picked them up from Nutmeg, and went ashore to Tickles, the bar/restaurant at Crown Bay Marina, and proceeded to celebrate our arrival in the Virgin Islands, and our reunion, as it had been over a year since we had last seen them.
(If you're keeping score, we arrived in St. Thomas from Culebra, which came at the end of about a month transiting the South Coast of Puerto Rico, which began after our 41 Hour Passage from Turks and Caicos.)
We hadn't really prepared much for the Virgin Islands, honestly. Our MO has been to prepare for our next destination only when we're about to depart from our previous one. In fact, when we arrived in Turks and Caicos last October, we hadn't decided where we would go next – either Southeast to Puerto Rico and then the Virgins, or South to the Dominican Republic, then West to Cuba, Mexico, and beyond. But while we were in Turks and Caicos, we met Robert on Dauntless, then Caitie, Stephen, and Kyle on Kailani, and (again) Ryan and Lesli on Au Soleil, all of whom were on their way to the Virgins, where they all work on charter boats. They all told us how amazing the Virgins are for boaters and boating, and that was that – our decision was made. (See How a 4 Cent O-ring Can Change Your Life for a post about our meeting of these great people in Turks.)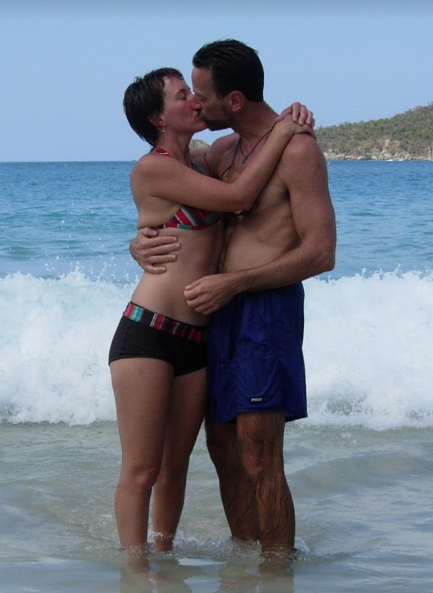 Fran and I had been to the Virgin Islands only once, in April 2005, a few months after we met. Fran was visiting a friend, and I was able to join her for about five days. But we were still starry eyed lovers then, and didn't pay much attention to our surroundings. ("Pretty water, huh? Wanna go back to the room?") It certainly didn't prepare us for this visit, on Smartini.
Steve and Challen arrived two days after we did. We had a rough itinerary from Max and Whitey, who take guests around the Virgins for a week at a time for a living. But when we got the text from Steve on the morning of their arrival ("Ummm… we left our passports at the house") – it was time to improvise. Most charters do most of their time in the British Virgin Islands, for a lot of reasons, and we had planned on that. But since that wasn't an option, we looked at the maps, and the nautical charts, and the weather, and the guide books, and decided we could easily make a week out of exploring the island of St. John.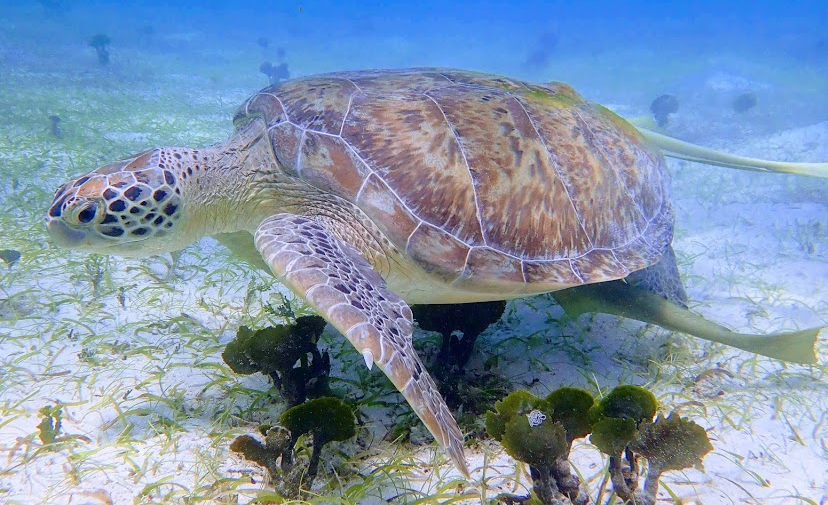 And it was wonderful! We snorkeled most days (with turtles the first day!), we hiked to the ruins of the Annaberg sugar plantation, we saw a flying gurnard snorkeling in Maho Bay (we were snorkeling, not the flying gurnard – he was walking – he's a fish, but he doesn't really swim or fly – oh, nevermind!). We had pizza from the Pizza Pi boat in Christmas Cove, and Juicy Booty at St. John Brewers in Cruz Bay, and fantastic burgers at Skinny Legs in Coral Harbour. We had the biggest, baddest Painkillers in all the Virgin Islands within a 30 second walk from the dinghy dock in Cruz Bay. It was definitely not a hardship having to stay in the USVI for a week!
Since Steve and Challen's visit, we've had visits from Molly, then Heather and Eric, then Warren and Deanna, all for about a week. Twice we've had 1-day visits from friends here on a cruise ship – Allen and Bridgett, and just yesterday, Marianne, Michael, Edwin, Sally, Raymond, McKenzie, and Will. (In some previous post, I may have mentioned that we were going to try to slow down the pace of our visitors in 2019. Yeah… scratch that.)
We've now made it to all the islands of the Virgins that we wanted to visit, including Anegada (the northernmost island in the BVI) and St. Croix (the southernmost island in the USVI). We've been here for a little over three months. And, in spite of all the amazing things everyone says about the Virgins… we're somewhat ambivalent about them. In fact, after a great first week with Steve and Challen, we started to wonder (over the next few weeks) if we liked it here very much at all. "Blasphemy!" you say? "The Virgin Islands are a boater's PARADISE!" you say? Well, that may be true, with one minor but significant clarification. They are a SAILboater's paradise. Not so much a trawler's paradise.
Lemme 'splain.
What makes this such a great place for sailboaters is the wind, known as "the trade winds". There's a really descriptive Wikipedia write-up of them that goes on for several paragraphs about what causes them, and what impact they have on weather, and why they're called "trade winds" – and nowhere in that article does it mention that THEY ALMOST NEVER STOP BLOWING! At least 20 hours a day, most days, they blow at a speed that's great for sailboaters, wanting to get from one island to the next, to the next, to the next, day after day, for every day of their seven day visit here – about 15 – 18 knots (17 – 20 mph). Sailor Man loves the trade winds, because he doesn't have to be much of a sailor to get somewhere (and he just motors when he has to). Credit card captains come here from all over to prove to themselves that yes, they were born to the sea, and they really should have been a professional captain, and they just know that in a previous life they were a famous pirate. They sail from one country all the way to another – almost six whole miles! – so they're technically international captains. And they go to the Soggy Dollar Bar, and Foxy's, and Gertrude's, and drink Painkillers and Bushwhackers and Rum Punch, and then, after a week, they go back home.
But we don't. We're still here, watching the weather forecast every day, and thinking "Is this wind EVER going to die down a bit?" Because we're not sailing, the only use we have for wind is to keep us cool, and 8 to 10 knots is perfect for that, thank you very much. With 15 knots (and often 20+), we get rolly anchorages, and rough seas, and a level of discomfort that we didn't sign up for. It makes May the Cat grumpy, and that's just not OK.
We've pretty much figured it out, though, which means that we have a short list of places we can go when the wind's really going to blow, to be comfortable. Christmas Cove, home of the Pizza Pi pizza boat, even has free mooring balls, and we've spent week-long stretches there two or three times, enjoying the calm and the snorkeling (and occasionally the pizza). Cane Garden Bay, on Tortola in the BVI, is very protected, and has about a dozen places on the beach to get a cold drink and a bite to eat. (Not to mention that one of them plays incredibly loud music until after midnight every Saturday night, so that's a plus!) And now that Smartini's stabilizers are working again (fortunately only a minor electrical issue), we can get from one place to another on most days without cursing the wind.
But the boat life we prefer is nice and slow, traveling on calm seas, and anchoring in protected bays for several days at a time, so we can easily explore what's under the water around us, and above the water on land. That's not how they roll in the Virgin Islands.
Given that rather lukewarm description of the Virgin Islands in general, you might be surprised to learn that, if we were forced to pick a place to live from all the places we've been on Smartini so far, we might very well choose St. Croix. It's 35 miles south of St. Thomas, and is very much its own island. We spent 8 nights there a few weeks ago, and did more scuba diving from our boat than all the rest of the diving we've done since we left the US last March. We met lots of very friendly people everywhere we went. We had fun at their Pride Parade, which happened to be on the one Saturday we were there. We saw the sun rise from the Easternmost point in all of the United States. They have a good brewery (Leatherback), a rum distillery (Cruzan – pronounced "CROO zhun", meaning someone from St. Croix – I know, I've been mispronouncing it forever, too), an airport with several non-stops to the US each week, and both the US Postal Service and Amazon deliver! But the thing we all noticed (we were there with Max and Whitey) was how neat and tidy it was, compared to most islands we've visited so far. Homes and other buildings are kept nice, for the most part. Not much litter at all. Very few rusted-out vehicles in yards. Many of the places we've visited in the Bahamas, Turks and Caicos, even Puerto Rico, and especially here (St. Thomas) look and feel (and sometimes smell) like a teenager's bedroom. St. Croix was a very refreshing change. If you've been to the rest of the Virgins, you might consider a week in St. Croix next time. We'll go back if we ever have an opportunity.
A few days ago, our dear friends Curt and Sondra arrived on St. John for a weeklong vacation. We'll be meeting them later in Cruz Bay, and it should be a blast (literally and figuratively) because it's the 4th of July, and they have a big parade, Carnival-style. We hope to hang out with them several times while they're here, and then, for us, it's off to our next home (St. Martin) for the rest of the year. We'll leave as soon as THE WIND STOPS BLOWING FOR ONE DAMNED DAY!
UPDATE: You can tell from some of the above picture that it's now several days after I wrote the rest of the article, because you can see that we had a fantastic time with Curt, Sondra, Kelby, and Sam.
P.S. – Yes, we know that the trade winds blow all the way down the Caribbean Islands. We're crossing our fingers that there will be at least one calm place to park the boat on the lee side of each of them. I'd really hate to go totally insane from not being able to escape the wind for the next year or so.
(Click on a photo to bring up the viewer, then click the little circled "i" to display the captions as you scroll through the pictures.)