Welcome to Smartini Life, the website of Fran Martini, Brian "Butch" Smith, May the Cat*, and Southernmost Smartini, our home on Big Pine Key, Florida. "Smartini" is a mashup of Smith and Martini, and our friends have referred to us as "the Smartinis", or "Team Smartini" for some time, and we like to include the name in whatever we call our home.
Brian (a.k.a. Butch) is the primary author of the site, so first person references usually refer to me. Fran will write occasionally. In spite of repeated requests, May never did write anything for the blog, but she's in a lot of the pictures, being cute. That's what she did best anyway.
From 2016 to 2021, we lived full time on our boat, a 52 ft. trawler named Smartini, and cruised the Florida Keys, The Bahamas, Turks and Caicos, and almost all of the island nations of the Eastern Caribbean. May was on the boat with us for almost all of that time, but sadly, she left this world February 5, 2021. If you'd like to read about her, and get a sense of how much better she made our lives, click here.
We became landlubbers again in August 2021. If you wonder why, you can click here.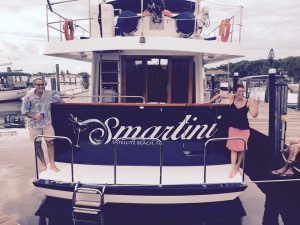 Fran and I met in February 2005 (maybe I'll write that up sometime – it's a good story), got married in July 2009, retired in October 2013, bought Smartini in January 2016, got rid of almost everything and moved aboard in July 2016, and left our home marina (Anchorage Yacht Basin in Indian Harbour Beach, FL) on November 12, 2016. We spent some time in the Keys (enough time to be there when Hurricane Irma blustered through in September 2017), then finally made it to The Bahamas on March 1, 2018.
Our original objective was a thorough exploration of The Bahamas and the Caribbean over three to five years, looking for a place to buy a home where we would spend most of our time for as long as that made sense. Since March 1, 2018, we spent 12 months in The Bahamas, 4 months in Turks and Caicos, almost a month in Puerto Rico, 6 months in the Virgin Islands (US and British), and 7 months exploring almost every island country (but certainly not every island!) from St. Martin / Sint Maarten to Grenada and back to the Virgin Islands. Stories of many of our visitors and adventures are documented here in the blog. While we loved visiting most of those places, we never found an island we loved enough to call home, so after we sold the boat and did a little vagabonding, we decided the Florida Keys was the only place in the US that we wanted to live, and we moved into Southernmost Smartini on January 26, 2022.
I'm updating this page on June 7, 2023, from the island of Nuku Hiva in French Polynesia. I've managed to document our trip fairly well so far, starting before we even left home, in these posts: Smartini Goes Sailing, Sail Fail, Galapagos, Mo'orea, Rangiroa, Fakarava, and Hiva Oa.
The map below shows where we've been, and where we are currently (whenever we're traveling, that is). It documents our entire time on Smartini, our big COVID-summer driving trip around the US, and will show our Panama-Galapagos-French Polynesia trip. It plots our location from our Garmin InReach satellite locator / communicator. (If you don't see the map below, you can get to it by clicking on this link: https://share.garmin.com/FollowSmartini)
Send me your name, the email address you'd like me to send post notifications to, and a username you want to use. (If you don't tell me a username, I'll use your first name and the first initial of your last name.) After I sign you up, you'll get an email confirming your subscription, which you need to reply to.