This is the sixth in a series of posts, each one about an island we're visiting while on our grand tour of French Polynesia. (The first post was about Mo'orea, the second was about Rangiroa, the third was about Fakarava, the fourth was about Hiva Oa, and the fifth was about Nuku Hiva and also included a "status check" on the trip so far.)
We're back in the Society Islands, the group of islands in French Polynesia that includes the two most famous ones, Tahiti and Bora Bora. (We actually spent the night last night on Bora Bora: it was our ferry stop between Raiatea and Maupiti, which is where we are now. We had an expensive dinner on the waterfront – we were so close to the water I thought our waiter might fall into the lagoon – but that's all the time we're spending on Bora Bora. Too touristy and too expensive!) Raiatea and Taha'a are interesting because they share a large lagoon (defined by a fringe reef). In the photo below, the turquoise "border" is the fringe reef, and the dark blue between the green and the turquoise is the deep water in the lagoon. At one point on our boat tour around Taha'a, we went from 18 feet deep to 180 feet deep in about 3 seconds, as we left the turquoise and passed into the dark blue.
Read more
As I discovered and revealed in my last post about Nuku Hiva, my general happiness on a trip like this is heavily dependent on how much I like (or dislike) our accommodations. Let me say right up front, I loved where we stayed on Raiatea! It's called Fare Oviri Lodge, and it has recently changed hands, after first opening about 11 years ago. The new owners have lived on Mo'orea for some time, and are now bringing this place up to snuff. It has three bungalow buildings – one is a really, nice, big one for a couple (it has a Jacuzzi), one is for a family with up to five kids, and one is split into two singles, each perfect for a couple. We were in one of those. Queen bed with plenty of space around it, room to unpack, a nice bathroom with walk-in shower and lots of hot water (very nice since we went scuba diving three of our days), and a very effective ceiling fan. (No A/C, so a good ceiling fan is essential.) The main lodge building is a big kitchen and dining room. If you want them to make breakfast for you, they will, and it's excellent – or you can make your own. They don't offer any other meals, but that was never a problem since we had a rental car and were in town every day for one reason or another, so we ate at a restaurant most nights, but used the kitchen to make dinner a couple nights.
Speaking of eating at restaurants, we got to spend time with our friends Max and Whitey again! Totally coincidentally, they had their boat on Raiatea for four of the same days we were there, and we had dinner with them twice. Didn't get to dive with them – they had boat things to do – but it was fantastic hanging out with them – again – in French Polynesia!
One of the many great things about having dinner with them is that they speak English! Really well! (Although Whitey, being from Australia, gets a big kick out of asking the locals "Parlez-vous Australian?") And since Fran is such a social critter (me, too, if the timing is right), we usually have a great time on trips having conversations with people we meet. But there are very few native English speakers visiting here, and most of the people who speak English as a second (or third) language aren't conversational in it, so we've been Jonesin' for some conversation. Max and Whitey helped fill that gap big time! And we might actually get to see them AGAIN, when we're on Tahiti, which would be pretty incredible, and wonderful.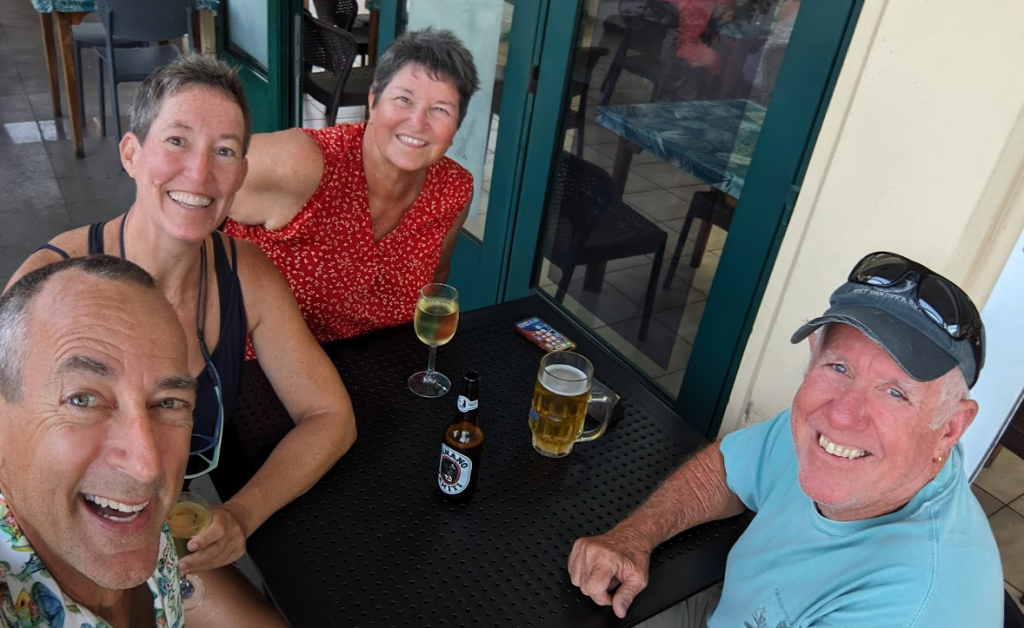 Raiatea is home to the second largest town in all of French Polynesia – Uturoa (population: about 3,700 in 2011) – which means it has pretty much everything you need, right there, in a store, on a shelf! This is most definitely NOT the case on any other island we've visited on this trip, so it was a bit of a luxury. Not that we need a lot of stuff, but we did need some little dessicate packets that keep our cameras dry in their underwater housings, and we walked into Gauguin Photo and they had them! We needed some beer that wasn't Hinano, and we walked into The Bottle Shop and bought some Guiness Draft (the 16 oz. cans), some Duvel Belgian Strong, and a couple of craft beers made on Tahiti that weren't half bad. So, you know… we were pretty happy to be in the big city of Uturoa for a bit!
We were on Raiatea and Taha'a for only five full days, and we did two dives on three of the days, which kept us pretty busy. Four of the dives were essentially the same – go outside the pass, hang a right until you come to the mooring balls, tie up, and dive the reef slope. (They call it the Miri Miri Dropoff.) It wasn't spectacular, like some of our dives on Rangiroa and Fakarava, but the whole slope is covered in hard corals that are quite healthy, and there are tons of fish everywhere. With excellent visibility and virtually no current, we completely enjoyed all four of these "repeat" dives.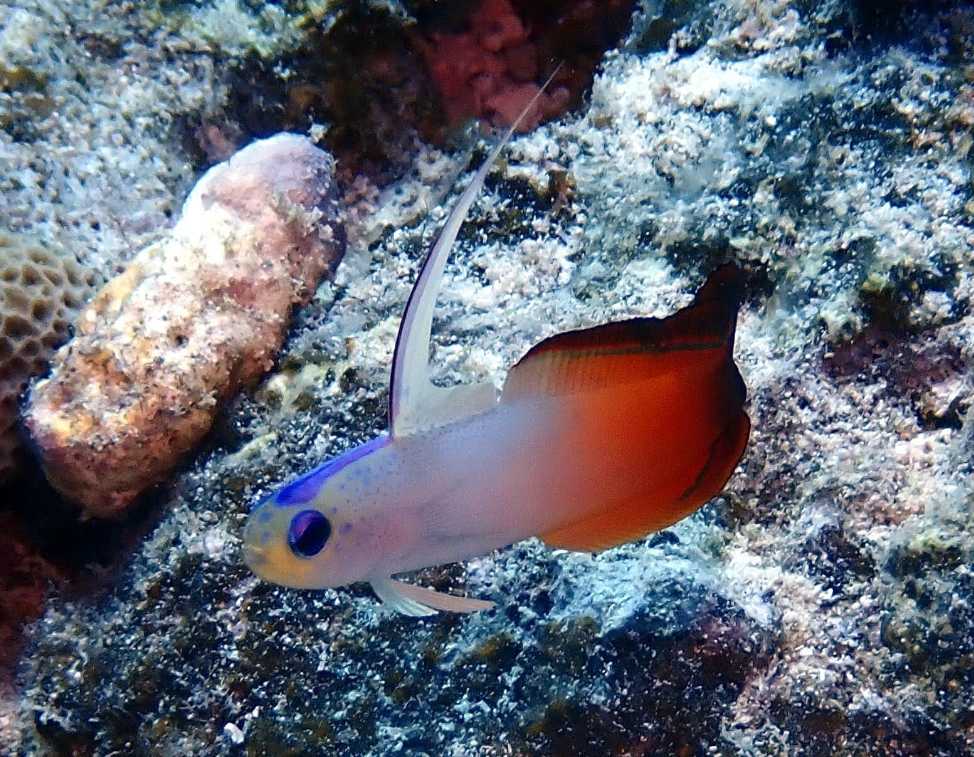 Another dive was actually inside the lagoon, and right in front of the ruins of the very first resort to feature "over the water" bungalows. The resort opened in 1967 and they built three bungalows on the water, right at the edge of the shallow reef, before it drops off steeply. The resort has been abandoned for years, but one of the docks is still there, and we were quite suprised when the dive master said "when you get in the water, stay on the surface and swim to that dock – we'll descend from there." We weren't 10 feet from the dock when he gave the "dive" signal, and down we went – almost straight down a wall, until we could see the wreck of the Nordby looming up from the bottom. It's sitting mostly on its side, exactly where it sank in August 1900. We reached the deck at about 65 feet, and swam through the deck (all the wood rotted away long ago) and into the hull. The anchor is still there, right where it was stowed when the ship went down. Legend has it that the ship was scuttled on purpose so the owners could get the insurance money. It sat in place, slowly sinking, while they offloaded everything of value, and when it finally sank, they called Jake from State Farm with the bad news. The coolest thing for us about diving this wreck is that there are several species of nudibranch that live on it, and we found three of them, including one of the biggest, and most beautiful, of the hundreds that we've photographed before.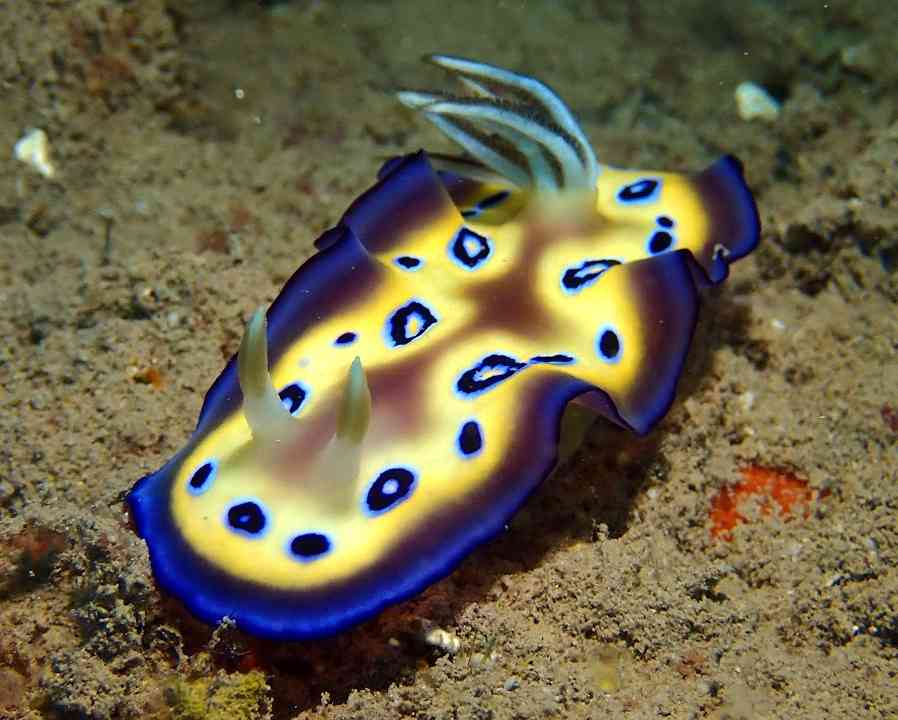 One of our days was spent on an excursion to Taha'a. On a fast boat, it's a quick trip to Taha'a, and we had a busy day: visit Pari Pari Rum Distillery at 9:00 a.m. (breakfast of champions!), snorkel the Coral Gardens, visit a pearl farm, have special Father's Day lunch prepared in a "Tahitian oven" (dig a big hole in the ground, build a fire in it, put a bunch of food on the coals, cover and let sit overnight), and snorkel with a LOT of black tip reef sharks. I don't have space to detail everything we did, but it was a fun day, and the weather was perfect to be on and in the water.
Raiatea, like all the other islands we've visited that have a mountain (or mountains), is strikingly beautiful to drive around and to view from the sea. Our two 55 minute drives each day (to town, and back to our bungalow) gave us ample opportunity to see it in all lighting conditions, and there are multiple views on this island that will take your breath away. Views looking up at the sheer peaks, and looking out at the lagoon and surrounding reef – you want to have your camera ready on Raiatea!
Each time we leave an island on this trip, we ask each other "If you had to choose one of the islands we've visited to live on for two years, which one would it be?" This morning, as we were traveling to Maupiti on the ferry, I think I presented a pretty good case to Fran for it to be Raiatea! (Not that we're going to actually do that – nope, I really don't want to have to learn French, and that would be a must for such an adventure.)
Here's a link to all the best photos and videos from Raiatea and Taha'a: click here.