(Editor's note: I wrote this article on February 25, not expecting to be leaving Turks and Caicos for some time. But a week later, we relocated Smartini to Big Sand Cay, preparing to depart for the Dominican Republic, and ended up bypassing the DR and making it all the way to Puerto Rico on March 7! I'll post soon about that 41 hour crossing.)
As we wait for a nice weather window for our next major relocation (Puerto Rico for a bit, then the Virgin Islands), it occurs to me that I'm long past due to write about our home for the last 3 1/2 months. We arrived here on October 29 after spending the first eight months of this Big Adventure all around the Bahamas. We planned to stay three months here, partly because we had friends and family who wanted to visit and we needed to commit to a location for that. But it was also because we (I, in particular) were ready for a little bit less of a vagabond lifestyle for awhile.
The Bahamas are a wonderful place for extended cruising – they're geographically huge, with beautiful water and beaches everywhere you go, very boat friendly, nice people, etc., etc. Our approach was to move around a lot, so we could see and experience a lot. 2,185 nautical miles since leaving Florida on March 1, most of it within an area about 200nm long and 75nm wide. We spent most nights at anchor, ate most meals on the boat, and most of the people we met and interacted with were Bahamians. (Not "Bohemians", as we have heard some cruisers refer to them!)
We knew the Turks and Caicos Islands ("TCI"), and Providenciales in particular ("Provo"), would be a very different experience. Provo is a very popular tourist destination for people who live in the USA, and especially for people who live in Canada. At least half of the boaters we've met here, and maybe more than half of the other tourists, are Canadian. If I were crazy enough to live that far north, you can bet I'd be looking for a nice, warm, sunny, place like Provo to come and warm my bones, too. In 1974, there was even an effort in Canada to annex TCI, but a few of the citizens here raised some minor objections, so Canada apologized profusely, sent a nice floral arrangement, and dropped the matter entirely.
Anyway, the preponderance of tourists from the US and Canada has resulted in a place that feels a lot more like "back home" than the Bahamas – more bars and restaurants and stores that feel "normal" than in all of the Bahamas, actually. (Don't misunderstand me – we love experiencing all the people, places, and things that DON'T feel "normal" – I'm only trying to describe Provo.) There's an area here, very near most of the largest resorts, that's chock-full of cute little shops, and jewelry stores, and restaurants, and frozen yogurt dispensaries, that we refer to as "South Florida". Heck – there's even a CrossFit gym here, which Fran and I took advantage of 2 – 3 times a week all during December and January.
We didn't know the specifics of all of this before we arrived, but based on everything we had read and heard about TCI, we expected it. So on the four hour jaunt between the last of the Bahamian islands and Provo, back on October 29, I told Fran that after we got into the marina, and got Customs and Immigration out of the way, that I wanted to find a place with pizza, beer, and Monday Night Football! (We ended up at a Mexican restaurant that had surprisingly good beer, and later, at a bar with MNF on the tube – close enough!)
TCI is comprised of islands that sit atop two shallow banks – the Caicos Bank and the much smaller one where Grand Turk is, that I'm sure has a name, but I didn't bother looking it up. Look at the picture: the Turks Island Passage – the crevice between the two banks – is over 7,000 feet deep! Grand Turk is the national seat of government, but the largest population center is Provo, by far. Comparatively, almost no one lives in Middle, North, or South Caicos, and West and East Caicos are uninhabited. You wanna know more boring facts like these, you can look 'em up yourself.
From a boating perspective, TCI doesn't have nearly as much to offer as the Bahamas. Not as many places to safely and comfortably anchor in changing weather conditions, and moving from one place to another is a much bigger deal. For a number of reasons, we decided to spend our time here in the Turtle Cove Marina, in the bottom part of the big "V" on the north coast of Provo. It's protected from wind and waves from all sides, it has five "normal" bar/restaurants in easy walking distance, and a nice, big, grocery store that we can reach on our bikes if we're feeling energetic. And the rate is only $0.75 per foot per night if you pay for three months in advance. (That works out to $39 per night for Smartini.) Water is $0.15 per gallon, which is cheap compared to a lot of marinas we know of here and in the Bahamas. They charge for electricity by the kilowatt, but we don't use much of their power because of our solar panels, and the fact that we haven't run the air conditioning except for about a week in December when it was still pretty warm, and we had guests.
Most of the boaters we've met here are just passing through, between the US and the Virgin Islands. We're the only long-term liveaboards here, and only a couple of other boats have been here more than a week or two. Many of them have stayed only long enough to fuel up, make a minor repair, buy some groceries, and wait for a little better weather for their next leg. And that's too bad, because we've enjoyed our time here immensely, and now, finally, after all the ponderous lead-up, I'm going to tell you why!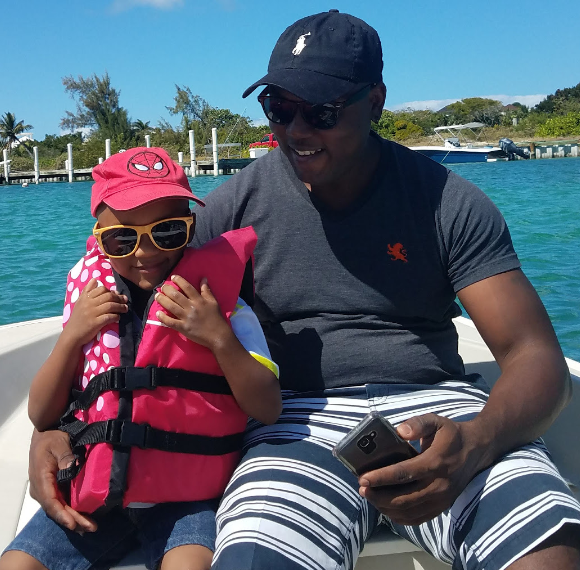 The People
Everyone here is so FRIENDLY! Well, not everyone – a few of the government workers, and the people at the Digicel office, and the occasional clerk in a store, clearly don't love their career choices. (The guy from the Agriculture department, who came on board to inspect the paperwork for May the Cat, seemed to have an actual stick up his butt.) But when you go into a bar or restaurant, you're greeted with smiling faces and welcoming words – and a menu or request for your drink order within a few minutes. Most employees of most places of business seem glad you've come in, and are eager to help. This may seem "normal" to you – and it does to me, too, which is the point, because it is most certainly not normal in most places we went in the Bahamas. It's not that Bahamians aren't nice, but as a group, they aren't nearly as outgoing about it as are people in TCI. I'm guessing that's because the economy here is so incredibly dependent on tourism, but it extends beyond the touristy places, so it's more than that. (Side note: We've spent many hours at Sharkbite and the bar at Mango Reef, in large part because the staff at both places are wonderful.)
The people who live here are a real mix. The true natives – the legal citizens of TCI, known as "Belongers" – seem to be only about half of the locals we've met. The other half are from Jamaica, Haiti, the Dominican Republic, the Bahamas, the Phillipines (strange but true), and of course, Canada and the US. The explosion of resorts here since they started in the early 1980's couldn't have been staffed by just Belongers – there never have been enough of them. We heard recently that the biggest resorts actively recruit employees from different countries to come here, because they can't fill all of their employment positions unless they do.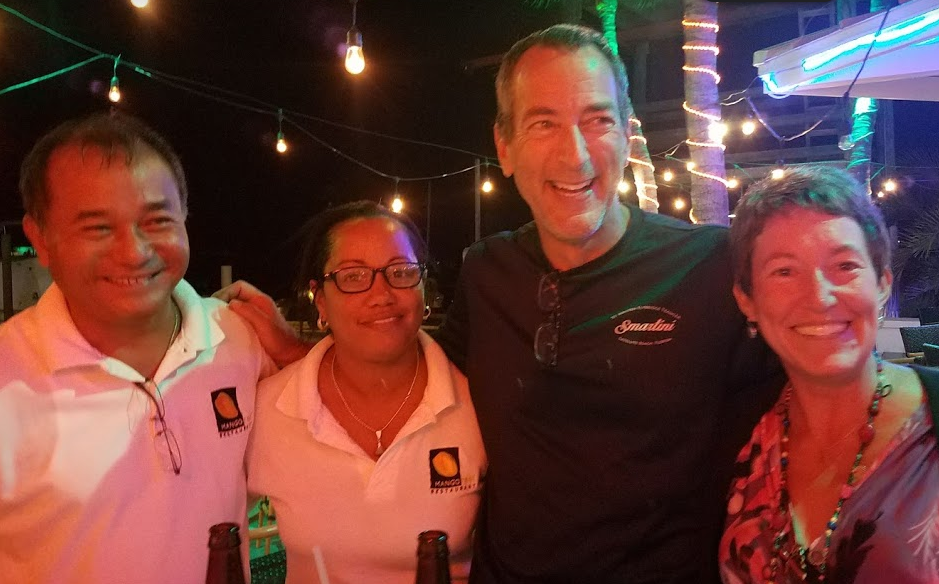 The Water
The draw for tourists here is, and has always been, the beaches and the water, both of which are almost as pretty as their Bahamian counterparts. The government recognized this a long time ago and declared most of the waters in the most touristy areas as Princess Alexandra National Park. The entire park is a "no take zone" – no fishing, no lobstering, no taking of anything out of the water. In fact, visitors aren't allowed to take conch or lobster, nor to spearfish, anywhere in the waters of TCI. This has resulted in even the most heavily visited reefs being alive with turtles, sharks and rays, and more parrotfish, blue tangs, and yellowtail snappers than you can shake a snorkel at. At Smith's Reef, which we can take Killer to in about 5 minutes, we see at least one spotted eagle ray or turtle every time we snorkel, and on one particularly good dive, we saw three rays, two turtles, and a partridge in a pear tree. No, wait – that last thing was a nurse shark.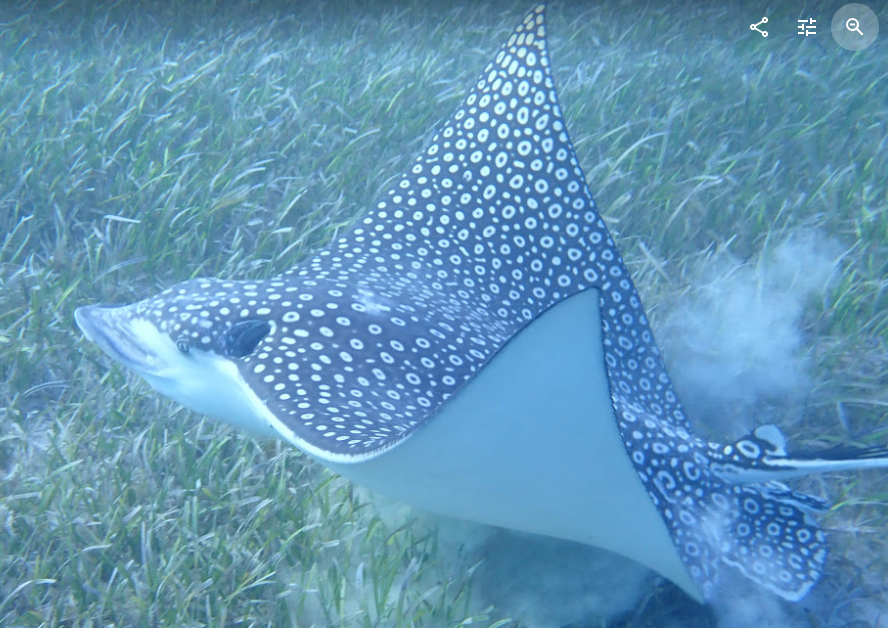 The same preservation attitude, and the spectacular near-vertical drop-off at the edge of the two banks, makes for some excellent scuba diving. When our final guest (my long-time business partner Joel) was here, we finally got out for some scuba, and did six dives that I would rate in the 7, 8, or 9 (out of 10) range compared to all the diving we've done around the world. The walls are incredible – you're in water that's 60 or 70 feet deep, and suddenly you're in 7,000 feet! On a couple of dives, we went down over the edge of the drop-off and along the truly vertical wall for several minutes, but at that depth, you don't get a very long dive, so most of the time was spent right at the drop-off, or up on the more shallow areas. But we had some very close (and not at all scary) reef shark encounters, saw a huge spotted eagle ray, some turtles, some eels, and healthy, beautiful coral everywhere. During the surface interval on our first dive day, we even saw a pair of humpback whales in the distance! They're in this area every January and February, apparently. We dove with Provo Turtle Divers and were very, very impressed with their whole operation. If you come here and dive, you won't go wrong choosing them.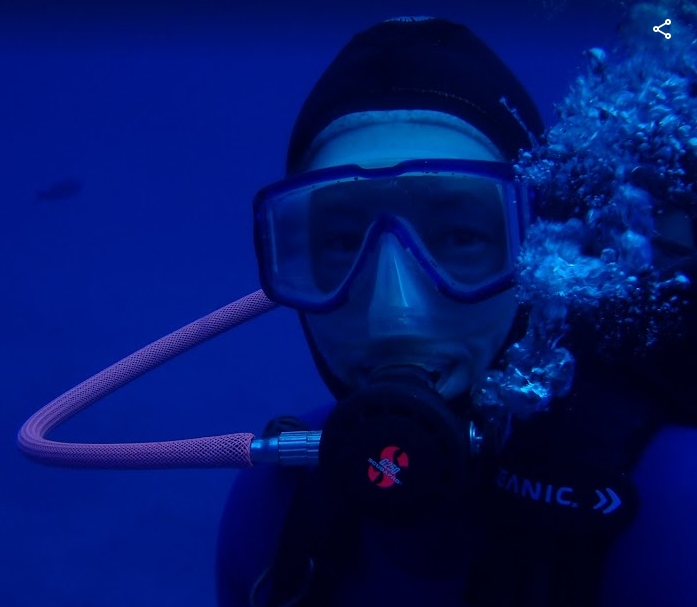 If you like to fish, this is the time of year when wahoo are caught almost every day on every charter boat that goes out. And they don't have to go too far to find them, either. The drop-off starts less than a mile offshore everywhere, and is no more than a quarter mile offshore in a lot of places. We tried to do some trolling in Killer when Cathy and JB were here, but it was more just to say we did it than a serious effort at catching dinner. Unfortunately, the charter boats are spendy – one of the mid-sized center consoles that runs out of our marina charges $1,200 for a half day! So we didn't do that. I did, however, buy about a pound of wahoo from one of them as they were cleaning the day's catch, and we enjoyed some wonderful sashimi and seared wahoo as an appetizer one evening.
The Other Islands
We missed one island in the Bahamas that we really wanted to visit – Great Inagua – because it has flamingoes. No problem – North Caicos has flamingoes! So when our first guests were here (JB and Cathy Brown, in mid-December), we planned a day trip to North and Middle, which are connected by a small causeway. From Provo, it's a 25 – 30 minute ferry ride to North, where you pick up a rental car (we got ours from Scooter Bob – remind me later to tell you about Scooter) and just start driving. It's easy to get off the main road, but also easy to find your way back to it, so you just start driving in the general direction of where you want to go – you'll get there eventually.
Our first stop was the official lookout point that overlooks the pond where most of the flamingos gather – cleverly named Flamingo Pond. And although we needed binoculars to see them very well, we could see what I would conservatively estimate at 1,000 or more flamingos wading around the pond. A group of a hundred here, a couple hundred there, all over the pond. (It's a biiiig pond.) Some were nearly Day-Glo pink, some were the almost white of the youngsters, and most were somewhere in between. They're a goofy looking bird, and we were all quite pleased to see them first hand, in the wild.
After flamingos, we wanted breakfast, and had been recommended by Scooter Bob to stop at a restaurant called Aquatic, and ask for Sasha, so of course, we did. (We ended up doing all the things that Scooter recommended that day, and were happy about all of them. He's been around awhile.) The breakfast was just breakfast, but we'd go back to Aquatic in a heartbeat just to experience Sasha again! In fact, we've been back once, and would have gone a third time, but we'd already had breakfast that day. Sasha is Jamaican, and my guess is that, in Jamaica, "Sasha" must mean "Sassy". I don't know how to describe her any other way. For example, we were talking about jerk chicken, which we love and which originated in Jamaica. We told her of a restaurant we'd found in Provo that has really good jerk chicken (Delicious Dishes). She said she knew the place and rolled her eyes at the same time, and proceeded to tell us that if we wanted some REAL jerk chicken, we needed to have hers, because no one in TCI makes it like she does. She said it with a smile, and only a hint of boastfulness, and we all wished we could come back for dinner that night. For the jerk chicken, and a side of Sasha.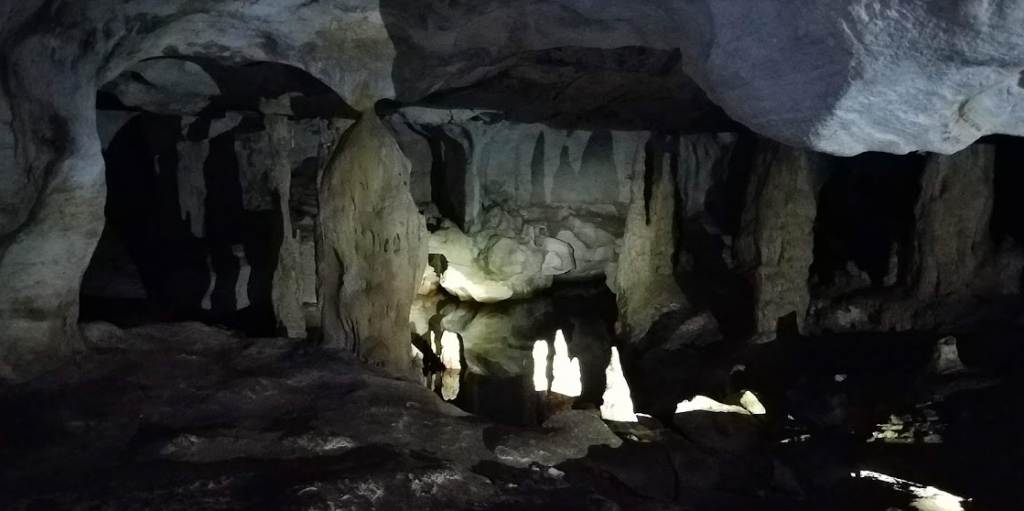 Our next stop was the Conch Bar Cave. TCI, like the Bahamas, is all limestone, and limestone almost always means there will be caves (and sink holes when the caves collapse, and blue holes when the ocean rises and fills them in). Conch Bar Cave is on public land and is protected, and you can go in only on an official guided tour. We paid our $20 per person, sprayed ourselves with nuclear strength bug spray (the mosquitoes are as bad as anywhere I've ever been), grabbed our flashlights, and followed Dimitri into the cave. It was considerably larger than we expected – because there were only four of us, and Dimitri liked us, he took us to one section that not everyone goes to, and we were in there for at least 30 minutes. There are some impressive stalagmites and stalactites, and hundreds of resident bats. We all enjoyed the tour, but at the end, when Dimitri told us about how they used to haul bat guano out of the cave by the ton, and that we had been walking around on it (and putting ours hands on it every time we steadied ourselves) – we were ready for some handsoap and a drink! Both of which we found at the Dragon Cay Resort located on Mudjin Harbour.
Mudjin Harbour is probably the prettiest spot in TCI, and as pretty as anywhere we saw in the Bahamas. It's a small harbor with an impressive rock structure called Dragon Cay about 150 yards off the beach. A sheer rock cliff rises up from the beach 60 or 70 feet, and from the top of it, you have a gorgeous view of the harbor and Dragon Cay, with the waves crashing over it several times each minute, and the deep blue of the Atlantic Ocean stretching to the horizon. Oh – and they have a jerk burger on the menu there that's as tasty as any sandwich you'll find anywhere, regardless of the view.
The rest of the day was spent driving around North and Middle, which reminded us of most of the places we visited in the Bahamas. A house here and there, most of them in that odd island status of maybe going up, maybe coming down. Only a couple of areas with enough buildings that you'd even call it a settlement. But mostly trees, and if you're close enough to the coast, the beautiful water. Garnet, our bartender at Dragon Cay, told us that people who live on North and Middle consider themselves "country people." I think it's an apt description.
You often hear of "island time", meaning that things happen when they happen, and that schedules are only approximate, at best. If you ever take the ferry to North Caicos, be aware that this does NOT apply to the ferry schedule! We arrived at the ferry dock at about 4:57, and had barely enough time to park the rental car and run to the boat before they cast off the lines and pulled away from the dock. And if you miss it, I hope you don't mind sleeping in your rental car, because that's about the only choice you'll have.
No description of the "other islands" would be complete without including Grand Turk. So my description is incomplete, because we didn't go there. It would take about 10 hours to get there in Smartini, and there's no place to safely and comfortably put the boat once you get there, unless the wind and seas are flat calm. And it's winter, so the wind and seas are never flat calm for more than a few days at a time. So if you want to know about Grand Turk, either Google it, or get on a cruise ship that stops there. I can't help you.
Fish Fry
We first learned of a Bahamian thing called "Fish Fry" on a business trip to Nassau several years ago. There, Fish Fry is a collection of small restaurants and food stands about a 30 minute walk from where all the cruise ships dump their multitudes. We found it by asking a local where THEY go for lunch. We had some great food, a lot of fun, and discovered Sky Juice (that's a whole other story!) at a little place called Candy's.
In Governor's Harbour, on the island of Eleuthera, Fish Fry is a Friday night food and drink event, that is, I believe, a fundraiser for one of the local organizations. It's in a single building, and it's only on Friday nights. Small menu that's the same every week, all the work done by volunteers.
On Cat Island, we found a Fish Fry that was more like the one in Nassau, but the little food shacks weren't open very often. Maybe just Friday and Saturday nights, and some days for lunch, if I recall.
Well, Provo has not been left out of the Fish Fry thing. Here's it's every Thursday night (unless it's going to be raining, then they usually cancel it), starting about 5:00. About ten local restaurants each set up a tent, erect a sign, and display their menu. Most of the menus are about 70% the same, featuring all the local staples – crack conch, conch fritters, whole fried snapper, jerk chicken, etc. Everyone has their own specialties (I had green curry lobster the first time we went), and most places also sell beer and/or mixed drinks. There are about ten places selling souvenirs – everything from t-shirts and wooden "Turks and Caicos" toy machetes to jewelry and lamps and other doodads made from the beautiful pink shell of the queen conch. There are a couple of ice cream / fro yo trucks, and the Turks Head Brewery truck. Wellington – a young man who makes some beautiful jewelry using the sand from Grace Bay – is always there. There's always live music, and toward the end of the evening, the local Junkanoo band gets going.
So you can go to Fish Fry for food, drink, and music, which is good enough reason to go once in a while. But it's the people watching that brings Fran and me back almost every Thursday! The atmosphere is very much like a small county fair, but without the rides, games of skill and chance, and smelly farm animals. People just sort of mill around, chatting to vendors, and to each other, and eating and drinking. There are some locals, and they tend to be younger (late teens and early twenties), and many of them are in full-on courtship mode. You can tell this by the way they dress, and the way they act, and it's both hilarious and painful, in the way that watching most young people in courtship mode is hilarious and painful.
But mostly, it's tourists. We believe that the resorts must promote Fish Fry as a local custom that everyone should experience, but some of them must give an impression of what it's going to be like that's very different from reality. I say that based solely on the outfits that many of the tourists wear – you'd think they had dressed for a fashion show on the beach in Cannes, or a night of clubbing in the city. Plunging necklines, lacey swimwear coverups, hair done up… and that's the men. You should see the women! If you come to Provo and don't make it to Fish Fry, you have truly missed one of the flavors of the island.
The Beer
Speaking of island flavors, we were surprised and quite pleased to find Turks Head Brewery here on Provo. They're the only brewery in TCI, and have been here since 2001. They make a respectable lager, amber, and IPA that you can find in bottles and on draft at most of the bars and restaurants, and if you go to the tap room, you can get a brewery tour from Mike (the hardest working man in Provo) and sample at least four other beers that they don't generally release outside of the brewery, except on their traveling tap trailer. When we arrived in late October, for example, they had a very nice Belgian Quad, and recently have had a dry stout that ain't half bad. It's not Intra, and it's not Deviate, but after eight months of Kalik or Sands in the Bahamas, we're happy as can be to have it!
The Food
With all the places that cater to tourists, and all the places that cater to locals, and with locals who come from several different islands – it's a real smorgasbord here. With almost no effort, you can take your pick of Jamaican, Dominican, Haitian, Italian, Mediterranean, Chinese, Sushi, Mexican, Pizza, and "pub fare". If you like jerk chicken and pork, you could have it at a different place every night for a month. Conch is everywhere, and we happen to like conch most of the ways it's prepared (except conch fritters – what a waste of good conch!), so that's a plus.
The only drawback is that food is expensive. It's expensive in the grocery stores (Haas avocados are normally in the $3.50 to $4.00 range, for example), and more expensive in restaurants. But if you look around, you can find some affordable menu options, and the grocery stores do have things on sale (three avocados for $5.00 last time I went, and they were nice, big ones). And we happen to like Spam (even at more than twice the normal US price) and beans and rice and chicken, and we rarely eat three times a day, so we're making the food budget work.
Speaking of expensive commodities: next time you bitch about gas being $2.50 a gallon, it's more than $5.00 at most places here, and diesel is the same or more. When we have to buy 200 gallons to top up for the trip to San Juan, I hope the credit card can handle the stress!
Scooter Bob's
Earlier, I mentioned Scooter Bob. Scooter (or Bob – he answers to either) came here from Canada in 1984 and has been here, off and on (mostly on) ever since. He owns the car rental place near the entrance to our marina. The first time we walked into his place after we arrived here, we just KNEW that it was our kind of place. It's a smallish place that combines a souvenir shop, bait and tackle shop, Quik Mart (they sell cold beer and snacks), aviation museum, and a counter at which you can rent a car, a bike, or a scooter. Bob and his son, Amos, who also works there, are both pilots, both with their seaplane rating, so of course Fran and I took a liking to them immediately. (We hung out in the shop one day during a long, ferocious downpour and talked about planes and flying the whole time – it was great!)
If Bob's in, he's likely on the well-used sofa that sits in the middle of the shop. Behind the counter you'll usually find Yan or Jam, or both. They're the helpful and friendly young women who work there with Bob and Amos. When they're not busy, you're likely to find some or all of them out on the back deck playing a mean game of darts.
They don't put up with deadbeats or assholes. They do, however, put them up – on the wall. One section prominently displays the names of people who have stiffed them on a rental car bill. A few weeks ago, some rich guy was not nice to Yan and Jam when he returned his car, and now his driver's license picture and name are on what looks kinda like a "Wanted" poster, titled "Asshole of the Month", up on the wall behind the counter. Be nice to the ladies! But that should go without saying.
The rental cars are all seasoned veterans of the Japanese rental car business. When you start them up, if they have a nav system, you'll see it trying to locate you on a map of Japan, and you're likely to hear a pleasant Japanese woman telling you to buckle your seatbelt, or close your door, or some other helpful safety advice – we don't speak Japanese, so can't be sure. We just bow and say "Hai!"
The best thing about the cars is that they all have names proudly emblazoned on the front. Our first rental was Toad, and since then we've had Char, Frog, Buddy, BSA (?), Spooky, Shrike, and a couple of cool Japanese trucks named Sparky and Farkle. (We usually rent a car for just a day at a time, once a week or so, which is why we've had so many different ones.)
The only thing wrong with the cars is that it's not uncommon for something to be inoperative: a power window, the windshield wipers, the headlights, etc. But that's a small price to pay for the whole Scooter Bob's experience. If you come to Provo, check them out. Or at least stop in for a beer and some darts.
The Summary
We like it here. A lot, actually. We like the fact that we can get a good meal with friendly service at a dozen or more places we've tried and liked. We like having a hardware store that's very well stocked, and grocery stores that you don't cringe on your way into, nor curse the meager selection on your way out of. We love the people – the Belongers, the Jamaicans, Dominicans, Haitians, Filipinos, Americans, Canadians, and Brits. We love the weather – we haven't had more than a few days each month that weren't postcard-perfect since late October. The wind could blow a little less for our taste, but here in the marina, it just means we get a pleasant breeze most days, and it cools off as soon as the sun goes down. It's not exactly a cruisers' paradise, but we knew that before we arrived – we were looking for something different, and we found it.
We're way too early in The Big Adventure to start thinking about a place to call home, but when that day comes, TCI will certainly make the first cut.
One last thing: if you come here, avoid the all-inclusive resorts. Rent a car from Scooter Bob's, figure out how to handle roundabouts while driving on the wrong side of the road from the wrong side of the car, and explore! And by all means, go to Fish Fry on Thursday night.