(This should be almost the last update – the last one will come after we have a chance to get on Smartini ourselves, hopefully later this week.)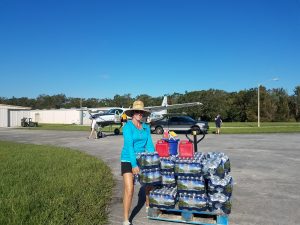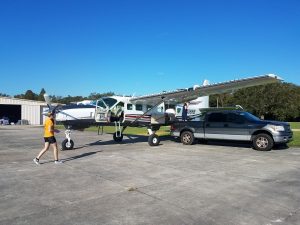 A couple days ago, Fran and I drove over to Lakeland, Florida to the airport there, to help load relief supplies onto small planes bound for Summerland Key. We did it because we wanted to start doing something useful, but also for a selfish reason: we hoped one of us might hop a ride down there to somehow get onto Smartini. But the planes we were loading were not getting close enough to Key West for us to get there. However, most of the other volunteers loading the planes were actually from Key West – displaced to Lakeland during the evacuation. Within minutes of meeting some of them, one of them was on the phone with a friend still in Key West, directing him to Smartini for an inspection. Thank you Janet (the fellow volunteer) and Wade (the inspector)!
Although we did our best to keep Smartini from hitting the dock, we fell short. Partly because our giant fenders didn't stay in place – they're inflatable, so it makes sense that they would have been blown around by the wind. But even that shouldn't have mattered, as we thought we were tied sufficiently in the middle of the slip that we couldn't even reach the dock. So we don't know if some lines didn't stay in place, or if the pilings on the other side of the boat that we tied to may have given way – only an on-site inspection will give us the answer.
In spite of rubbing the dock, the pictures Wade sent reveal only superficial damage – mostly to the wooden caprail that we spent four days refinishing earlier this year. Also to the paint in those same areas, but that's trivial to repair, right Chris and Christina? (Click on any image to open all of them in a slideshow viewer.)
I hope it's obvious that we consider ourselves incredibly lucky to have such minor damage. Hurricane Irma was, after all, the biggest, baddest hurricane ever documented in the Atlantic, and she passed right over Smartini. For the first time, we have a reason to be happy that we have a steel boat!