Katie is my almost-kinda-sorta niece. Actually, she's the second child of my best friend since high school, Ron Stanhouse and his wife Liz, but I've known her since the day she was born (literally), and we've spent so many holidays together in the last 23 years, she and her older sister Abigail seem like nieces. Katie started her first post-college job last December, and in August, finally got some vacation time. Fran and I were thrilled that she chose to spend it with us on Smartini!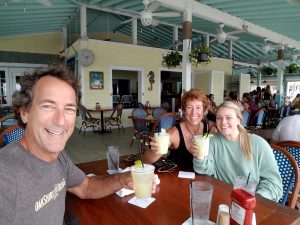 We were still moored in Boot Key Harbor (Marathon) when she flew into Key West, so we drove down to pick her up, stopped for lunch at the Southernmost Cafe, then a beer at The Hog Snapper on Stock Island, before driving back to Boot Key. We spent a day in Marathon getting ready for some offshore travel, then off we went towards Key West and the Dry Tortugas.
We stopped at Looe Key a few hours after leaving Boot Key for some snorkeling. Katie had finished her scuba certification with us in the Bahamas a couple years ago, aboard the Turtle E. Awesome, but hadn't been underwater since then, so she was eager for a refresher. Looe Key was the perfect opportunity to get used to breathing with her face underwater, with no pressure: a nice, long snorkel tour of the reef. We would have liked to stay longer, but we wanted to get to Key West well before dark, so after about an hour, we headed southwest. But we learned that we can use the mooring balls on Looe Key, so we hope to go back for some scuba diving!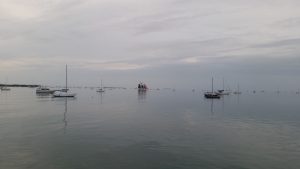 We arrived in Key West with at least an hour of sunlight left and anchored a little north of the Key West Bight on the west side of Fleming Key. We would be returning to Key West a few days later, so we didn't even leave the boat that evening – just enjoyed the sunset and got ready to depart in the morning for the Dry Tortugas. Katie had fully adapted to the "island time" pace on Smartini – it was such a change from her last eight months spending most days behind the counter at Enterprise Car Rental.
The next morning we pulled anchor and headed west for the 60 nm run to the Dry Tortugas. Weather, wind, and waves were all favorable, and we had dolphins with us several times during the day, including a threesome that rode the bow wave for at least five minutes. Katie was thrilled to no end, and took lots of pictures and some video. (Fran and I were, too, but we tried to act nonchalant about it – you know, being the cool boat people that we are.)
The only challenge about that run is the lobster pots – they are the bane of most boaters in the Keys, even as far away from the populated areas as the Dry Tortugas. A lobster "pot" is a lobster trap, that sits on the bottom, and is marked by a small styrofoam buoy at the surface. We don't ever want to run over one, because the rope between the trap and the buoy can snag on our stabilizer fins and get pulled into the propeller, possibly with damage to the prop, shaft, rudder, or hull. But they're EVERYWHERE!!! At times, it's like playing Whack-a-Mole – you dodge one buoy, and seconds later, you're changing course to dodge another, then another, then another. It's honestly a little stressful, especially when the sun is low in front of you, and the glare makes the buoys hard to see even when you're almost on top of them.
Eight and a half hours after leaving Key West, with all the lobster pots safely behind us, we pulled into the northside anchorage at Garden Key, the island in the Dry Tortugas on which Fort Jefferson stands. The fort is a huge six-sided brick structure that covers almost the entire island. Begun in 1846, it was worked on for decades, but never really finished. The history of it is fascinating, especially given its remote location, but I won't delve into it here. Wikipedia is a decent place to start, if you're interested.
We wanted to be back in Key West for Katie's birthday, so we'd have only one full day in the Dry Tortugas. (By the way, they're "Dry" because none of them has any source of fresh water, and they're "Tortugas" – Spanish for "turtles" – because the earliest explorers of the area saw and caught lots and lots of turtles there.) We wanted to get some more snorkeling in, as well as a couple of scuba dives to get Katie refamiliarized, so that would be our plan for our one day there. Unfortunately, there are very strict rules about where you can take a boat, where you can beach a boat, and where you can anchor, which didn't leave us with many options. Smartini draws 6 feet (i.e., she needs at least 6 feet of water depth to stay off the bottom), and our dinghy isn't very fast, especially with three people and dive gear, so there weren't many places we could go. (We finally named the dinghy – SmarTeeny, or "Teeny" for short.) We managed to get in an hour-long scuba dive, and Katie did great (in spite of her feeling a little anxious about it, as we learned later). Then we took Teeny to the northwest side of Loggerhead Key, looking for the wreck of an old boat that's supposed to be fun to snorkel on. We didn't find the wreck, but Fran and Katie had some really nice snorkeling in 6 – 10 feet. (I had to stay on Teeny, as anchoring in the area is prohibited.)
When we returned to Smartini, Katie was ready for some relaxation and Fran and I wanted to finish cleaning the bottom of the boat, so that's what happened. Man – we need to be a lot more aware of when the barnacles start growing on Smartini. What should have been a 30 minute job for one of us turned into an hour for both of us. Lesson learned!
This was our first opportunity to use the scuba tank filler (air compressor) we had installed over a year ago. We fired it up and started filling tanks, used two of them to clean the bottom, and then kept filling them so all four would be full. On about the third one, the compressor started making a funny noise, and within seconds turned into a not-at-all-funny noise – the belt that turns the compressor was screaming, as the compressor itself seized up. WTH?!?! Well, that's what happens when you let a piece of machinery operate without the correct amount of oil. DOH! (We got lucky – a $400 rebuild of the compressor head and we're back in business.) Lesson learned!
After another relaxing evening, we went to bed for a not-so-relaxing night. Our generator was still not fixed, so although I could run it, I could do so only with all the safeties disarmed. That meant that if we happened to suck up a plastic bag into the cooling water intake, for example, the engine would quickly overheat and quite possibly be seriously damaged, because the overheat shutdown was disabled. But it was hot – the weather, I mean – and going to sleep without some air conditioning was going to be damned near impossible. So we ran the generator and a/c, cooled things off to a nice sleeping temp, and I set an alarm for three hours later so I could shut off the generator, limiting the exposure to an overheat. Not my most restful night onboard, for sure. (FYI, right after we returned to Key West, I finally was able to fix the generator myself, for what should be a permanent fix.)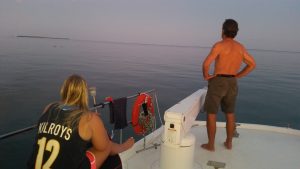 In the morning, we started the 8 1/2 hour run back to Key West, but planned to stop short at one of the islands that's about an hour west of Key West – the Marquesas, or Boca Grande. We wanted to snorkel a bit and enjoy another afternoon of total boat laziness. We ended up just off the southern tip of Boca Grande, put Teeny in the water, and headed for shallow water for some snorkeling. The water was warm, and almost flat calm, great for snorkeling. We didn't find any amazing reef to snorkel on, but it was just nice being in the water. And dolphins swam near Smartini while we were anchored!
That night, there was a really nice breeze and the temperature dropped just a few degrees, so we all slept outside; Fran and I on an air mattress on the flybridge (plenty of room with Teeny still in the water), Katie on one of our super comfy deck chairs on the foredeck. The sky was mostly clear, we were 10 miles from the lights of Key West, and the stars were beautiful! Sleeping was excellent, until the wind increased to the point of making us chilly, so we all went back inside.
The next morning was Katie's 23rd Birthday, and she wanted to spend it in Key West – a fine idea, especially since she'd never been there before. We motored into the Key West Bight Marina, tied up about 11:00, and while Fran and I tidied up Smartini, Katie walked three minutes to the Waterfront Brewery for lunch, and to meet an old friend from middle school who just started working there recently. Fran and I joined her shortly, and we spent the rest of the day showing Katie the parts of Key West that we were familiar with. Weather was sunny and hot, so of course there were lots of stops for drinks – to cool off, you know? We walked by the Southernmost Buoy, and the Hemingway House. Fran and Katie went up the lighthouse. We walked down Duvall, found Mile Marker 0, made it to Mallory Square before sunset, and crammed as much Key West into a day as we could. It was Katie's last day of vacation – her flight left the next day about noon.
She was with us for a whole week, but it went by so quickly, we couldn't believe when it was over. We didn't get to dive as much as we all wanted, but Katie didn't seem to mind. I think a week full of days that were mostly doing nothing was pretty much what she had in mind for her vacation.
Come back soon, Katie!